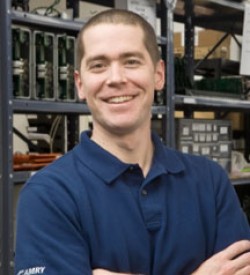 Phone: +215-682-9330, Extension 115
Toll Free: 877-367-4267, Extension 115
E-mail: cbeasley@gamry.com
Chris Beasley
Director of Sales and Marketing
Chris grew up in Berks County, PA and obtained his BS in Chemistry from Kutztown University in 2000, graduating magna cum laude, working under the guidance of Dr. Ed Vitz. Chris's undergraduate research project involved interfacing various sensors to a computer using LabVIEW as an ActiveX container for Excel. This enabled the general chemistry students to study the concepts rather than worry about the tedious details of data acquisition.

Chris always had a desire to attend graduate school but at the end of his senior year he enjoyed all fields of chemistry (except quantum mechanics!), so he decided to wait until the time was right to narrow his field. He went to work for Merck and & Co., Inc. in West Point, PA, after finishing at Kutztown, specialized in method development for HPLC and LC/MS and structure elucidation using NMR. There he met several people who graduated from the University of North Carolina at Chapel Hill under the direction of Dr. Royce W. Murray. Their discussions on the beauty of electrochemistry prompted him to pack up and move to North Carolina. What? You didn't know that electrochemistry is beautiful? That's what a little focus will do for you.

The Murray lab allowed him to study electrochemistry, learn synthetic organic skills, and expand his analytical toolbox. Chris's work centered around redox-active nanoparticles (metal, metal-oxide, and polymeric) both in solution and as films. Chris's work with an electrochemical quartz crystal microbalance at UNC caught the attention of Gamry and Chris lead our charge with the eQCM 10M. He's also talking about electrochemistry on the telephone with our customers, where his natural teaching skills become obvious.