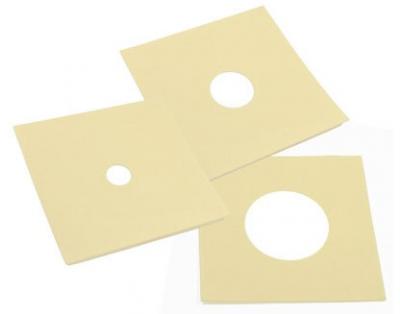 PortHoles™ Electrochemical Sample Masks
Product Details
Overview
PortHoles™ Electrochemical Sample Masks are fabricated from 3M Model 470 Electroplater's Tape. Model 470 Tape incorporates a special adhesive to bond aggressively to the metal sample surface to discourage underflow of the tape edge by the electrolyte, which would cause crevice corrosion. The hole in the tape is carefully cut for a smooth edge with minimum burring. Model 470 Tape is formulated to withstand lengthy exposure to chemicals commonly found in electroplating applications.
PortHoles™ have good success at minimizing crevice corrosion, however, there are no perfect solutions, so the edges of the exposed area should be examined for evidence of crevice corrosion when the experiment is finished. When the experiment is complete, the PortHole is removed and discarded.
With the ParaCell:
Only the 1 cm2 PortHoles™ Mask can be used with the ParaCell.
After the 1 cm2 PortHoles™ Mask is attached to the sample with careful attention given to adhesion around the edges of the hole, the sample is mounted in the ParaCell.
With the PTC1™:
All available PortHole™ sizes can be used with the PTC1™.
After the PortHoles™ Mask is attached to the sample, the body of the PTC1™ Paint Test Cell is placed on the Mask. The O-ring seal of the PTC1™ body insures that no leakage takes place.
Specifications
| | |
| --- | --- |
| Dimensions | 3 inch (7.6 cm) square masks with a pre-cut [1, 3, 10] cm2 hole and removable backing |
| Use | Single Use |
| Material | Yes |
Product Images
Downloads