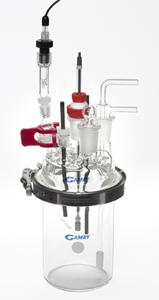 MultiPort Corrosion Cell Kit
The MultiPort™ Corrosion Cell is a one-liter electrochemical cell that is designed to maximize flexibility. Its unique two-piece design can accommodate a wide range of sample geometries and makes it easy to clean. The cell top has seven access ports—more than enough to run the ASTM G5, G59, or G61 Standards. The MultiPort™ is available in both a non-jacketed model and a jacketed version for temperature control.
The new Flat Specimen Holder is an optional part for the Gamry MultiPort Cell Kit.
Specifications include:
Holds samples up to 7 mm thick
Circular samples 25-30 mm
Square samples up to 23 mm on edge
Active electrode diameter is 10 mm and area is 0.785 cm2
Maximum temperature 80° C
Product Details
Overview
The MultiPort™ Corrosion Cell is the workhorse of a corrosion lab, accommodating 1 L standards testing. The two-piece design allows you to insert oversized samples in the cell, and makes it compatible with the Flat Specimen Holder. The MultiPort™ top has 7 variable use ports. In the normal cell configuration these ports are used as follows:
One central 24/40 ground glass joint for a working electrode (corrosion sample)
One SJ 28/15 ball joint paired with an adapter for a Luggin capillary/bridge tube for use with Gamry's SCE, Ag/AgCl, and Hg/Hg2SO4 reference electrodes (electrodes ordered separately)
One or two Ace-Thread port(s) for counter electrode(s)
One 24/40 ground glass joint for gas purging/blanketing (an adapter is supplied)
Additional: one 24/40 ground glass joint and one or two #7 Ace-Thread port(s) usable for temperature sensing, reagent addition, gas venting, etc.
The Ace-Threads allow for vertical adjustment to accommodate a wide range of sample volumes. Vertical adjustment combines with the ball joint to make sure your Reference Electrode Bridge Tube is placed close to the surface of your corrosion sample. The Bubbler has one position for deaeration and another for blanketing.
The cell kit includes one 30 cm (12 in.) graphite rod counter, but some standards specify two counter electrodes. The cell design has two #7 ports located 180° and in-line with the center port. This produces an opposed geometry to normalize current density on the working electrode. This is more important with higher currents and/or more resistive solutions.
Common electrochemical setups will leave 2-3 ports available to allow other experimental needs (condenser, stirring, in-situ imaging, solution adjustments, etc.). 
The cell top and cell bottom are firmly secured by a clamp. A PTFE-coated silicone O-Ring insures a leak-free and contamination-free connection.
The standard working electrode assembly used in the MultiPort™ is described in ASTM G5 -- a cylindrical sample that is drilled-and-tapped with a 3-48 UNF thread. The working electrode is screwed onto the support rod. A PTFE compression gasket insures a leak-free seal. The depth of the working electrode in the MultiPort™ is adjustable, allowing easy orientation of the working electrode and the reference electrode bridge tube.
Working electrodes for the MultiPort™ can be fabricated in your lab, or purchased in virtually any material from Metal Samples (which specializes in corrosion coupons).
Recommended Uses
Corrosion Standards Testing
This is what the MultiPort™ Corrosion Cell Kit was designed for and what it does best. The optional jacket is an added benefit.
Studies With Oversized Sample/Apparatus
The two-piece design of the MultiPort™ allows for far more flexibility in terms of what size and shape objects can be put into it. If it can fit in the mouth of the base, then you can set it up in solution. We have available a flat specimen holder that fits into this category (though unless you have specific need one of our other flat cells may work better).
Problematic Electrolytes
High viscosity and non-Newtonian fluids can be a filling and clean up nightmare. The two-piece construction again comes to the rescue. The ability to remove the top makes filling and cleaning difficult electrolytes much easier.
Extra Apparatus
Electrochemical testing involves three electrodes (sometimes four), and often a gas input for bubbling and blanketing. This means that even a basic echem cell needs 4 ports. Experiments that require extra monitoring or additional electrodes or anything else often mean custom cells. The MultiPort™ Corrosion Cell has 7 ports. One of the spares is a large 24/40 taper joint, and the others are narrow but highly versatile Ace-Threads.
Specifications
DIMENSIONS

Working Volume
Between 400 mL and 1200 mL

Size (standardd/jacketed)

Approximately 15/21 cm diameter by
42/45 cm high
(including electrodes/adapters)
 
 

WORKING ELECTRODE PORT

Type
24/40 Standard Taper Ground Glass
Adaptor (S)
24/40 to 8 mm tube, PTFE
 
 

REFERENCE ELECTRODE PORT

Type
SJ 15/28 ball joint includes an adapter and standard reference electrode bridge tube
Reference Electrode Diameter
9 - 11.5 mm (when used with the bridge tube)
Bridge tube termination in electrolyte
Unfired Vycor® disk, 3.5 mm diameter
 
 

COUNTER ELECTRODE PORT

Type
#7 Ace-Thread
Counter Electrode (S)
30 cm (12 in.) graphite rod
 
 

GAS FLOW PORT

Type
 24/40 - equipped with two-way gas flow adapter
(purge/blanket)
 
 

SPARE PORT

Type
14/20 - supplied with several polyethylene stoppers
Type
#7 Ace-Thread (2x)
 
 

CHEMICAL COMPATIBILITY

Wetted Materials
Pyre®, PTFE, unfired Vycor®, ACE FETFE
Non-Wetted Materials
Above, plus nylon, polypropylene, stainless steel
Images
Manuals