Upcoming Shows-Conferences-Short Courses
Gamry will be in attendance at the following conferences, exhibitions, and short courses and we'd love for you to stop by and chat with our electrochemical experts. It's a great way to review the features of the latest Gamry products, or to bring any technical matters or applications questions to our attention.
2022 Events Schedule
November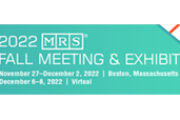 November 27 - 1 2, 2022
Boston MA
The 2022 MRS Fall Meeting will be held November 27 – December 2, 2022, in Boston, Massachusetts, at the Hynes Convention Center and adjacent Sheraton Boston Hotel, and then December 6 – 8 in a virtual format.
The world's foremost international scientific gathering for materials research, the MRS meeting showcases leading interdisciplinary research in both fundamental and applied areas presented by scientists from around the world.
Read Articles from Current & Previous Conferences and Courses
Join Gamry for the 15th Topical meeting of the International Society of Electrochemistry April 27-30 at Niagara Falls, Canada.