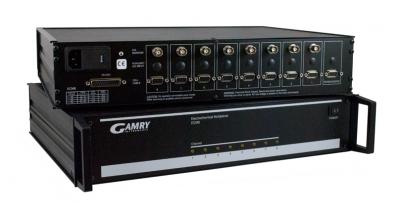 ECM8™ Electrochemical Multiplexer
The ECM8™ Electrochemical Multiplexer is an affordable way to expand the throughput of your lab. Experiments can be sequentially multiplexed on up to 8 channels. The ECM8™ is ideal for corrosion inhibitor testing, EIS evaluation of paints/coatings, monitoring of field probes for corrosion tests, and chemical sensor development.
Product Details
Overview
The ECM8™ Electrochemical Multiplexer partners with a Gamry Potentiostat to convert a single potentiostat into a powerful instrument suitable for sequential multichannel operations. It allows you to sequentially take measurements on up to eight electrochemical cells. The ECM8™ Multiplexer is great for automating repetitive experiments, and for increasing throughput on long-term experiments where data can be taken periodically. Each of the eight Multiplexer channels also incorporates a "local" potentiostat to polarize the sample when not participating in the electrochemical experiment. The ECM8™ is not usable for simultaneous multichannel experiments across multiple cells. For simultaneous multichannel experiments see the multichannel potentiostat.
Applications
Corrosion Inhibitor Testing
Paint/Coating Evaluation
Galvanic Corrosion
Corrosion Monitoring
Chemical Sensor Development
Standard Features
8-channel for sequential measurements.
DC and AC experiments.
Includes industry standard multiplexed experiments.
8 Local Potentiostats – Inactive channels can be set to open, short, or polarized.
Warranty – Protected by 2-year factory service warranty.
Specifications
CHANNEL CHARACTERISTICS

Modes
Active, Open, Shorted, Local
Excluding communication time
Channel Switching Time
<4 msec 
Excluding communication time
Cell Current
1 Amp max Switched 
Input Voltage (operating)
±12 Volts vs. Chassis (except Counter)
Input Voltage (no damage)
±24 Volts vs. Chassis
Counter Electrode Voltage
±120 Volts 

vs. Chassis

 
 

CHANNEL ISOLATION

Current Leakage
<2 nA max to any electrode in active channel from any source
Impedance
>500 MΩ  <20 pF
 
 

POWER INPUT

Input Voltage Ranges
100,120,220,240 V rms
Allowed Voltage Variation
±10% on each range
Power
<50 VA
 
 

LOCAL POTENTIOSTAT
(ECM8 ONLY)

Compliance - Current
±20 mA - 500Ω load
Compliance - Voltage
±11 Volts - 1kΩ load
Applied E Range
±5.12 Volts Working vs. Reference
Resolution
>80 dB (10 kHz)
>60 dB (1 MHz)
Zero Offset Error
<4 mV typical     0 Volts output
<10 mV max      10 kΩ load
Gain Error
<0.2%  -  10 kΩ load
Reference Input Current
<50 pA
Note: Applied voltage error is the sum of zero offset and gain errors.
 
 
 

RS-232 COMMUNICATIONS

Baud Rates
 300, 600, 1200, 2400, 4800, 9600, 19200
Set via internal DIP switches
Default
9600 - Factory setting
Handshake
Hardware via RTS and CTS
 
 

ENVIRONMENTAL

Operating Temperature
  0 to 45° C
Humidity
0 to 90% - Noncondensing
Product Images
Manuals
Accessories
ECM8 120V Multiplexer for Interface 1000/Reference 600 w/Cell Cables - #992-00108
ECM8 240V Multiplexer for Interface 1000/Reference 600 w/Cell Cables - #992-00109
ECM8 120V Multiplexer for Reference 3000 w/Cell Cables - #992-00110
ECM8 240V Multiplexer for Reference 3000 w/Cell Cables - #992-00111
Auxiliary A/D Input Option for ECM8 Multiplexer - #992-00181