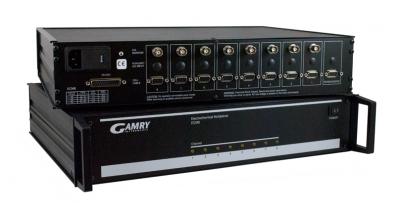 ECM8™ Electrochemical Multiplexer
Great for scaling up constant-potential microbial fuel cell studies
Organization: Yale University
Application Area: Maintain potential for studying multiple microbial fuel cells in parallel
The ECM8™ Electrochemical Multiplexer is an affordable way to expand the throughput of your lab. Experiments can be sequentially multiplexed on up to 8 channels. The ECM8™ is ideal for corrosion inhibitor testing, EIS evaluation of paints/coatings, monitoring of field probes for corrosion tests, and chemical sensor development.
Product Details
Overview
The ECM8™ Electrochemical Multiplexer partners with a Gamry Potentiostat to convert a single potentiostat into a powerful instrument suitable for sequential multichannel operations. It allows you to sequentially take measurements on up to eight electrochemical cells. The ECM8™ Multiplexer is great for automating repetitive experiments, and for increasing throughput on long-term experiments where data can be taken periodically. Each of the eight Multiplexer channels also incorporates a "local" potentiostat to polarize the sample when not participating in the electrochemical experiment. The ECM8™ is not usable for simultaneous multichannel experiments across multiple cells. For simultaneous multichannel experiments see the multichannel potentiostat.
Applications
Corrosion Inhibitor Testing
Paint/Coating Evaluation
Galvanic Corrosion
Corrosion Monitoring
Chemical Sensor Development
Standard Features
8-channel for sequential measurements.
DC and AC experiments.
Includes industry standard multiplexed experiments.
8 Local Potentiostats – Inactive channels can be set to open, short, or polarized.
Warranty – Protected by 2-year factory service warranty.
Specifications
CHANNEL CHARACTERISTICS

Modes
Active, Open, Shorted, Local
Channel Switching Time
<4 msec 
Excluding communication time
Cell Current
1 Amp max Switched 
Input Voltage (operating)
±12 Volts vs. Chassis (except Counter)
Input Voltage (no damage)
±24 Volts vs. Chassis
Counter Electrode Voltage
±120 Volts vs. Chassis
 
 

CHANNEL ISOLATION

Current Leakage
<2 nA max to any electrode in active channel from any source
Impedance
>500 MΩ  <20 pF
 
 

POWER INPUT

Input Voltage Ranges
100,120,220,240 V rms
Allowed Voltage Variation
±10% on each range
Power
<50 VA
 
 

LOCAL POTENTIOSTAT
(ECM8 ONLY)

Compliance - Current
±20 mA - 500Ω load
Compliance - Voltage
±11 Volts - 1kΩ load
Applied E Range
±5.12 Volts Working vs. Reference
Resolution
>80 dB (10 kHz)
>60 dB (1 MHz)
Zero Offset Error
<4 mV typical     0 Volts output
<10 mV max      10 kΩ load
Gain Error
<0.2%  -  10 kΩ load
Reference Input Current
<50 pA
Note: Applied voltage error is the sum of zero offset and gain errors.
 
 
 

RS-232 COMMUNICATIONS

Baud Rates
 300, 600, 1200, 2400, 4800, 9600, 19200
Set via internal DIP switches
Default
9600 - Factory setting
Handshake
Hardware via RTS and CTS
 
 

ENVIRONMENTAL

Operating Temperature
  0 to 45° C
Humidity
0 to 90% - Noncondensing
Product Images
Manuals
Accessories
ECM8 120V Multiplexer for Reference 600+ w/Cell Cables - #992-00130
ECM8 240V Multiplexer for Reference 600+ w/Cell Cables - #992-00131
ECM8 120V Multiplexer for Interface 1000/Reference 600 w/Cell Cables - #992-00108
ECM8 240V Multiplexer for Interface 1000/Reference 600 w/Cell Cables - #992-00109
ECM8 120V Multiplexer for Reference 3000 w/Cell Cables - #992-00110
ECM8 240V Multiplexer for Reference 3000 w/Cell Cables - #992-00111
Auxiliary A/D Input Option for ECM8 Multiplexer - #992-00181
Reviews
Great for scaling up constant-potential microbial fuel cell studies
Organization: Yale University
Application Area: Maintain potential for studying multiple microbial fuel cells in parallel
"Maintaining constant potential is critical for growing microbial communities on electrode surfaces. With its eight channels, the ECM8 Electrochemical Multiplexer has allowed us to us to scale up our experiments and study multiple fuel cells in parallel with only one potentiostat. We've worked with several people at Gamry and they all have provided top-notch service during instrument acquisition and after the sale. Instrument set-up is easy and the software is intuitive to use."
It is easy to use and give lots of good results.
Organization: Missouri University of Science and Technology
Application Area: Corrosion mechanism analysis
"This instrument is very easy to use for new people who have no experience in corrosion test. The price is reasonable and affordable. The after sales care is so good and this is the most important reason that I always purchase the instrument from Gamry. The technician Dan Cook I contact answered all of my questions and guide me to do different tests as well as give me suggestions and good advice. He is kind-hearted and patiently. This is the reason why I strongly recommend Gamry instrument."