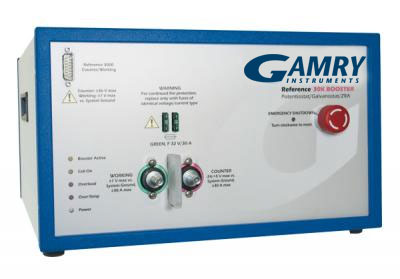 Reference 30k Booster™
The Reference 30k Booster is ideal for higher current applications such as large format batteries and lead-acid batteries.  It´s also ideal for fuel cell testing.  Ground isolation allows for operation in parallel with a power supply or electronic load or grounded cells.  The Reference 30K Booster attaches to a Reference 3000 Potentiostat or Reference 3000 Auxiliary Electrometer to bring the current limit up to ± 30 Amps with compliance limits of +20 and -2.5 V.  This high current device features impressive bandwidth allowing EIS measurements up to 300 kHz.
System Highlights
Overview
The Reference 30k Booster for the Reference 3000 Potentiostat is an external hardware option which increases the current limit of the Reference 3000/3000AE to ± 30 Amps.  It features a class-leading bandwidth of 300 kHz, allowing for high-frequency EIS measurements and rapid pulsing experiments.  The Reference 3000 Potentiostat plus the Reference 30k Booster is an ideal system for the evaluation of new technologies for batteries, fuel cells, and next generation supercapacitors.  The compliance limits of the Reference 30k allow complete discharge (through zero volts) and can accurately measure impedance values below 100 μΩ. 
The Reference 30k is not only limited to high current applications but has been uniquely designed to allow pass-through measurements. This means that you can use the 3 A, 300 mA, and 30 mA ranges of the Reference 3000/3000AE while still connected to the booster. Our systems are designed to pick the most appropriate range, giving you the highest resolution possible. 
Electrochemical Impedance Spectroscopy
The Reference 30K Booster is fully capable of performing electrochemical impedance spectroscopy.  The shorted lead curve shown below is a measure of the limits of the instrument.  
Rapid Pulsing
The booster's impressive 300 kHz bandwidth also allows it to do rapid pulsing experiments for techniques for cell characterization.  As mentioned above, the system's response (including electrochemical cell) is dependent upon the instrument's internal resistances as well as the resistance of your cell.  Below is an example of a 200 μs 12 A pulse on a 200 mΩ cell.  
More details
More details
Reference 3000 software functionality
2, 3, and 4 electrode measurements
± 30 Amps current
+20 V, -2.5 V compliance/applied voltage
3 Control Modes

Potentiostatic, Galvanostatic and Zero Resistance Ammeter.

Electrical Isolation

Floating instrument: use with operating fuel cells, grounded electrodes, and grounded cells such as autoclaves.

Separated Voltage and Current Cables

Always accurate EIS measurements.

Warranty

Protected by 2-year factory service warranty.
Safety
At these currents, safety is a must and we have incorporated several features to prevent damage to both the instrument and the user.  The system is protected against self-inflicted damage to the circuits, contains an emergency shut-off button, has a protective ground terminal and provides an insulating barricade to prevent accidental shorting across the terminals.
Images
Manuals
Reference 30K Booster - Part #992-00085 120V or #992-00086 240V
Specifications
SYSTEM

Dimensions
37 cm W x 23 cm H x 44 cm D
14.5 in. W x 9 in. H x 17.5 in. D
Weight
16 kg (35 pounds)
 
 

OPERATION

Modes
Potentiostatic, Galvanostatic, ZRA
Agency Approval
CE
 
 

DC CHARACTERISTICS

Compliance Voltage
+20 V, -2.5 V
Output Current
±30 A
Accuracy
±0.2% of scale ±0.2% of reading
Power Dissipation
600 W to + rail
750 W to - rail
 
 

AC CHARACTERISTICS

Slew Rate
20 V/μS (maximum)
Unity Gain BW (typical)
550 kHz (minimum)