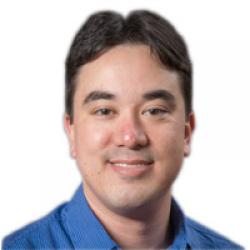 Phone: +215-682-9330, Extension 140
Toll Free: 877-367-4267, Extension 140
E-mail: cstarr@gamry.com
Chris Starr
Technical Sales Specialist
Chris Starr was born in South Korea, but he grew up in Colorado Springs, CO where he received his B.S. in Chemistry from the University of Colorado at Colorado Springs. Under the guidance of Dr. James Eberhart, he studied superheated fluids and modeled them with modified equations of state. He also worked at a major aerospace manufacturing plant as an analytical chemist in their metal plating facility.

After graduation, Chris worked at a private SBIR energy R&D firm where he studied heterogeneous catalysis for fuels production and thermoelectric thin-films. This provided a wealth of experience performing synthesis and characterization of soid superacids, zeolites, and thin-films. This also piqued his interest in studying interfacial processes and led him to join the graduate program at Arizona State University. Under the direction of Dr. Dan Buttry, Chris received advanced training in electrochemistry while bolstering his skills with synthesis and analysis. His projects involved cathode materials for lithium-ion batteries (spinel, birnessite, olivine) and noble metal alloy electrocatalysts for oxygen reduction.

Chris joined Gamry in 2015 so he could put his diverse skills to use. He enjoys talking to people about their research and helping them in any way he can, whether it is troubleshooting problems, planning experiments, or choosing the right equipment.